Following up on a post on the Mozfest blog, I wanted to give a big shout of thanks to the folks that came out to support Open Badges in our hack-track. We had around 8 hours of time built into the schedule for building new things on top of the Open Badges infrastructure and the Badgekit stack. I'm thrilled with what we accomplished, some highlights…
Open Badges Crawler / Indexer
Andrew from DIY built a service on top of the backpack that indexes all the badge classes loaded and marked public. It uses our database to bootstrap a crawling process that finds and indexes badges. It's a first big step towards building a service that makes it easier for learners to find badges they want to earn. We'll get it deployed live soon, in the meantime the code is up on github/thisandagain/badgecrawler.
Bake Everything!
In the current baking spec, we only specify that the link to the hosted assertion file be 'baked' into the badge png. It's a good thing, because it pushes validation back to the issuer, but it makes very lightweight issuing difficult. Any issued badge requires a server to host the assertion, or a public key to validate a signed assertion. For a huge swath of badges, we're less concerned about validation, and more concerned about attaching metadata that describes an accomplishment. Mozilla's own Potch submitted a pull request to the bakery service that bakes the entire assertion into the badge, a huge leap forward for anyone that's ever wanted to just quickly bake and email someone a badge without worrying about hosting.
Badge Everywhere!
The fine DigitalMe folks posted a map where people could put physical push pins that represented a commitment to launching a badge program in the place under the pin. The ever-resourceful and recent OpenBadges full-timer, Erik Christensen, built it as a real web site – Badge the World!
Badgekit and Appmaker, PB&J
We announced Badgekit (more on that from Erin, Sunny and Jess) at the festival, launched Open Badges Badges and MozFest badges on the platform and then started playing around with it. A few people came to the hack sessions wanting to mobile-ize issuing. Jess led several sessions on tools for disaster relief that included badges (which she writes more about on her blog), Telefonica and Unicef joined Mozilla to work on a mobile donation platform that included badges and bunch of us wanted an app to issue badges in a game of werewolf (excuse me, WereFOX).
When we realized we were in a room full of people that wanted to make mobile badging apps, we decided it would make more sense to build a series of Appmaker components. All in all, David, Laila and I built three key components, an issuer (which interacts with OpenBadger via claim codes and the API), a badge lister (fed by the OpenBadger feed) and a Twilio SMS'er. Given those ingredients, it's possible to build a whole bunch of interesting things. The Appmaker team is working hard on getting external component libraries includable from the main Appmaker site – as soon as that happens we'll be able to unleash a hoard of custom mobile badging apps!
Appmaker is really pretty cool to work with, and matches the goals we have for Badgekit – make hard things easy, build a community around a product. We've known the Appmaker squad for a while, and we're super thrilled how easy it was to smoosh Badgekit tools into Appmaker containers. Really excited to keep that going.
Doug caught a great picture of the Erin / Jess plenary demo of the Appmaker / Badgekit super-combo,
@willowbloo just posted (Nov 3) a video summary of the disaster relief badge project she and others worked on, more on Youtube.
Learning Pathways
Chloe and Mike built this amazing demo of where we could head with Learning Pathways. The process of linking badges together into a pathway that other learners can duplicate and follow.
More Yack
After a series of discussions during the hack sessions, Brian launched the Github discussion repo mozilla/openbadges-discussion. There's already a great conversation going about extensions to the spec for indexing going on. We all like hack, but without a good yack now and then, we're all just bumping into walls. ORGANIZE THE HACKS!
Who needs digital?
Finally! Cross-stitch badges, courtesy of Cordelia,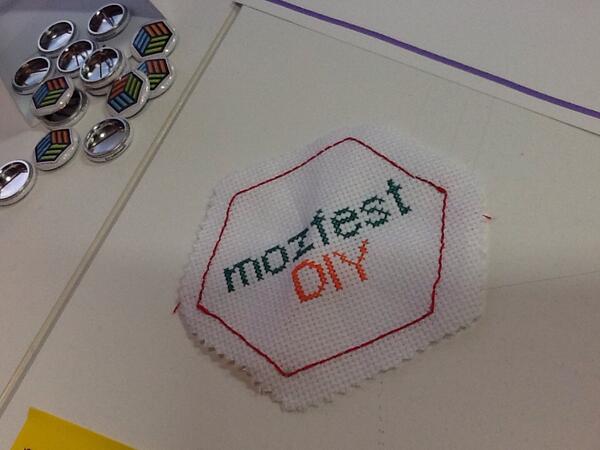 Huge thanks to everyone that helped during the hack sessions, supports Open Badges and were super fun to hang out with…BADGES IS A BIG DEAL FRIENDS, LET'S KEEP MAKING THEM.
If I missed something badge-ish you worked on at the festival, drop me a note in comments and I'll get it added!
[Oct 31 edit – added Learning Pathways]
[Nov 4 edit – adding disaster relief badges video]
[Nov 5 edit – adding link to Jess' summary of the Community Aid Badging sessions.]